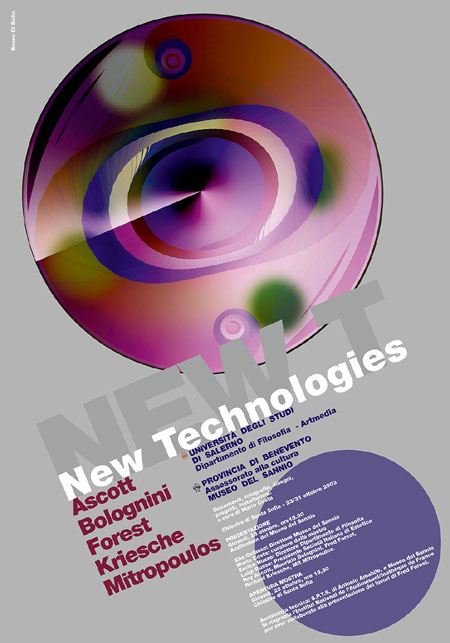 MUSEO DEL SANNIO BENEVENTO
The exhibition New Technologies can be considered as the conclusion of Artmedia VIII - From Aesthetics of Communication to Net Art, a major conference held in Paris during November-December 2002. The exhibition catalogue, as well as the Paris-based magazines "Art Press" (no. 285, December 2002) and "Ligeia" (no. 45/48, July-December 2003), where, respectively, the presentation texts and the proceedings of Artmedia VIII have been published, can be considered as a necessary theoretical instrument, useful to an understanding of an aesthetic-artistic movement which in the past two decades has never ceased to be vital and up to date.
In the last few years, especially in France, several kinds of more or less technological and communicational ìpoeticsî have been developed, each with its own mark of supposed originality: an aesthetic of ìcommutation", a "relational" aesthetic, others focusing on ìcollective interaction", ìrevealing interactivity", ìshared consciousness" and so on. In end effect, each of these formulations has merely isolated one or more aspects of the general theory of the "aesthetic of communication" and of its developments related to the concept of the "technological sublime", while presenting itself as if it were something new.
The five artists from ìold Europeî, Roy Ascott, Maurizio Bolognoni, Fred Forest, Richartd Kriesche, Mit Mitropoulos, gathered together for this exhibition in Benevento, all particularly significant in terms of their historical value as well as exemplary in terms of the complexity and comprehensiveness of their aesthetic research, offer us the opportunity to develop and accomplish an applied aesthetic and philosophy.
MUSEO DEL SANNIO PIAZZA SANTA SOFIA 82100 BENEVENTO
tel : 00 39 0824 21818
e-mail : sublitec@libero.it